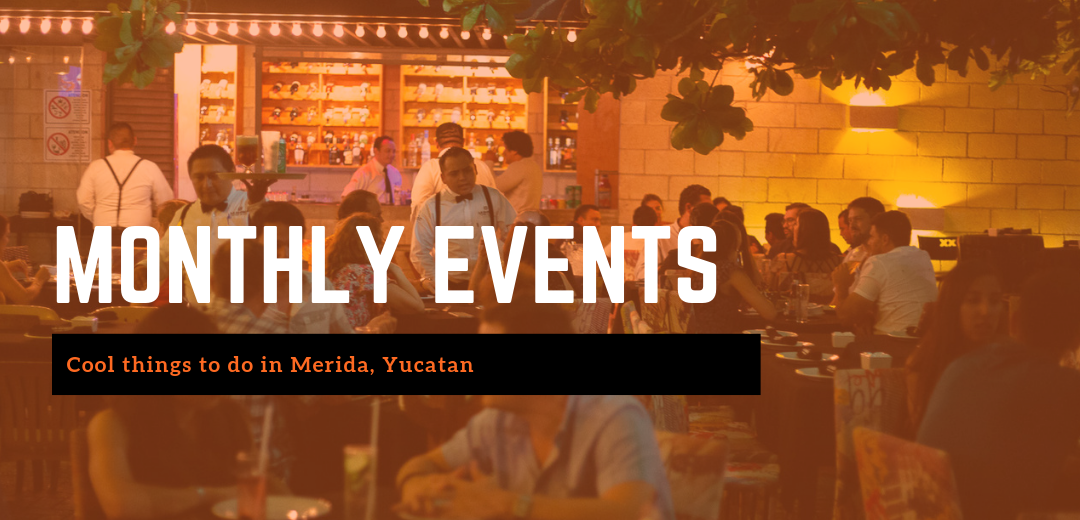 Bringing you the Happening events in Merida from music, culture, art and more
We have put together a calendar of events that will be updated daily as we get more information in. We hope to provide you with lots of options to explore this amazing city and state! You can download the pdf here and continue to check for updates. Plus some hightlighted events of the Merida Fest 2019 below.
Did you leave room for the Rosca de Reyes?Christmas season not over yet...
For those of you who live in Mexico, it's that time of year again. For those of you just visiting or if you're new to Mexican traditions, welcome to another quite enjoyable festivity. You may have noticed the large round, colorful cakes appearing in supermarket aisles and bakery windows. These are the Rosca de Reyes and they are part of a beautiful, Christian holiday in many Hispanic countries. It really depends who you talk to and who you end up sharing your Rosca with as to the story that you'll be told. But here is everything that we think you need to know before embarking on your Rosca journey this weekend. Rosca de Reyes, which literally translates as The Kings' Ring is a donut-shaped, sweet bread, topped with dried fig strips, chopped cherries, lemon peel slices, jelly pieces and sugar. It looks somewhat like a colorful crown and it is almost always accompanied by a delicious cup of hot chocolate.
How to Survive Driving in Merida: A Newcomer's Guide​
My mom came to town a few years ago and in her usual fashion she wanted to help as much as possible. She offered to drive my kids to school. Their school at the time was about 10 blocks from my house. It was about 6:30am when she made the suggestion. I stopped what I was doing, stared dumbfounded at her and murmured, "No way, it is a madhouse out there!" She just rolled her eyes and told me, "Oh please, Stephanie; I know how to drive." But the problem wasn't my mother's driving ability. The problem was everyone else's. When one chooses to drive in Merida, they must think of it as if they are going into battle. Grab your wheel with a firm grip; buckle your seatbelt; put on your helmet and charge because there is no room for the weak of heart on the streets of Merida. In general the Yucatecans are known for their relaxed nature. However, for some reason when they get in their cars, their inner fast and furious comes out: all is fair in love, war and maneuvering the streets of this city. Not only are you battling other people's aggressive driving nature, you are constantly on guard because of the unmarked speedbumps that will set you flying like Thelma and Louise. Or two way streets that turn into one way streets, and unexpectedly finding yourself in a confusing life or death situation with oncoming traffic honking and probably cursing the day you were born. So for any outsider, this is a set of guidelines and warnings to heed when venturing out on a trip across town. Guidelines for driving in Merida DirectionsIn Merida normally when you ask for directions people don't tell you street names and numbers they give you reference points. You are given references to monuments, statues, roundabout with statues, stores on a major street, famous houses. For obvious reasons, this can be very confusing especially if you don't know Spanish. And even if you do, if you are told to go to the "pocito" (the small well) and turn right you will still have no idea what they are talking about. Therefore I will give you a cheat sheet here: 1.- "El Pocito" the glorieta (roundabout): intersection of Cámara de Comercio y Andrés García Lavín 2.- "El Cohete" (the rocket): at the intersection of Circuito Colonias and Calle 20-A, La Colonia Alemán. 3.- La casa de la 500 (the house of $500…where this house gets its name warrants a whole other article.): Calle 19 # 98 and 20 Colonia Mexico 4.- La avenida City Center: this is Calle Garcia Lavin. City Center is a mall like plaza in the north end of town that is very close to the Periférico (the ring road). 5.- La Glorieta del Centrito: Calle 1-H por 8 y 10, 105 Colonia Nuevo México 6.- El Remate (the end): referring to the end (or some could think of it as the beginning) of Paseo de Montejo. Calle 47 y Paseo de Montejo Long traffic lights:Prolongación de Montejo is a nightmare if you are short of patience when driving. It's a beautiful avenue and a direct line through the city, but the traffic lights are on timers and you might very well get stuck there waiting at each light for what seems like 5 minute each one. And if there is a lot of traffic, forget it. Take a side street. Roundabouts (glorietas) What is supposed to be an organized way for traffic to flow turns into a mass circle of chaos with people switching lanes and stopping in middle of the road. You must take the roundabouts on the defensive and the offensive at the same time. Keep to your lane and know where you are going when you get to the other side of the circle. People will be rushing up beside you and cutting you off so make sure your seatbelt is fastened and be hyperaware in those circles of madness. Two-way streets that become one-way streetsYou are driving down the street minding your own business listening to your favorite tune on the radio and then all of a sudden there is oncoming traffic honking and trying to dodge you. This has happened to me at least 3 times. Drivers beware. Keep your eyes open at all times and look at the small, old falling down road signs with a straight arrow and a circle with a line through it. This seems like it would be obvious. Believe me, it's not. Where am I?The Centro and some of the older Colonias, neighborhoods, of the city are easy to maneuver because the streets are on a grid and the numbers are organized in a logical way. Everywhere else in the city leaves you with those deep WTF lines on your forehead. As you leave one Colonia and head into another, the name or number of the street may change. For example if you are on Calle 20 you may find yourself on Calle 146 a little further down the road and you say to yourself…where am I? The reason is that each Colonia has different street numbering. The best thing to do is check google maps and check out your real location. Also, learn the Colonias. You can find what Colonia you are in by looking at the street sign and the small name at the bottom is the Colonia. Colonia Chuburna: Stear Clear If you want to keep your sanity, don't even try to venture into Chuburna unless you have the whole day to figure out where you are. It's a labyrinth and you will find yourself turning around at least 10 times before finding your destination and then good luck getting back out! For the Merida newbie avoid Chuburna at all costs. Unmarked Speed BumpsI will finish up with this. There are speed bumps all over town. Some are marked, some were marked and no longer have any visible paint. Most have signs that signal a speed bump coming; however, I generally see 20% of those signs ahead of time because they are old and not very visible. The best thing to do is: don't drive fast in the city. Just don't. Drive at a moderate speed so when you inevitably hit a speedbump you won't leave your transmission, shocks, bumper and lunch on the side of the road. Also a word of advice: when you do hit that speed bump, it is perfectly acceptable to shout out the worst profanity you can think of, I honestly think that helps you and your car recover. Buckle up and Good luck out there.​
Is Naming a Restaurant "La Casta Divina" Really That Bad? ​
The other day there was a post on Facebook about a new restaurant that opened up in the Centro called La Casta Divina, The Divine Caste. It sparked a bit of controversy on the news and social media many people taking offense to the name. There were lots of opinions and speculations and some even likened the la Casta Divina to the Ku Klux Klan. Although that comparison seemed a bit extreme to me, it does drive home the idea that the Casta Divina was part of an intricate societal structure whose history includes opulence, progress, and wicked oppression. It also left many foreigners pondering: "What is the deal with the Casta Divina? I explored this topic once before in an article I wrote about Ya'ax Boutique Hotel. The building where Ya'ax is now located once belonged to one of the most conspicuous figures in the Casta Divina, Olegario Molina Solis. Basically, all of the grandiose colonial buildings in the Centro of Merida and the luxurious haciendas were owned by persons belonging to the Casta Divina. They were the elite, the ruling class and the famous henequen hacienda owners. When the Mexican Revolution of 1910-1920 came to Yucatan, revolutionary general−who later became Governor of Yucatan−Salvador Alvarado, gave the name la Casta Divina, to these ruling class elites. Before the revolution, this group dominated the government, the banks, the trains, the education, the Church and even the social parties of the high society. Nothing happened in this state without the consent of the Casta Divina.