Puras Cosas Buenas A Holistic Treasure In The Heart Of Merida
A few weeks ago I stumbled upon a small treasure right in the heart of Merida. I was called to come check out some of the specialty made products at Puras Cosas Buenas and what I found left me walking around with my mouth open...literally. Tucked into the Colonia Mexico is a holistic center where you can find a plethora of top quality natural products all made by hand by the same people that will be greeting you at the door. Puras Cosas Buenas is just that--Purely Good Things. This store and holistic center complex came about as a product of a community of Italians and Mexicans who live on a ranch outside of Oxkutzcab,Yucatan where they also have and eco spa and lodge called Las Aguilas Eco Spa. They started out with the idea to live a natural, healthy, and self-sustainable life. They believe in living a life where they know where the products they consume are coming from. Originally they were making all their products for themselves only, but because there were so many friends and acquaintances interested in buying their products they decided to open up to the public. This collective is a group of extremely talented artisans and knowledgeable healers. At their ranch, they have organic gardens, they raise cows and goats for dairy products, they make natural remedies and cosmetic products as well as handmade shoes, crafts, jewerly, art and leather products. The complex is truly a gem and is right in Colonia Mexico, if you live here I am sure you have passed it a hundred times. Location: Ave Jose Dias Bolio Calle 21 no. 103 corner of the roundabout Ave Libano (Calle 20)Phone: 999 688 9453
Nik Jameson's Tip On Container Landscaping in Yucatan
One thing I love about los Yucatecos are their clever ingenuity. One of the best methods of gardening in urban areas is containers. Los Yucatecos have been container gardening since before it was a cool fad. They have always lined their garden and balcony with plants to filter out the hot sun and because of the extremely rocky soil growing in pots has always been easier to manage. Not to mention the ability to move more delicate dry weather plants when the heavy rainy season begins. Let's start with the shortest and work our way up. In the case of container gardening the shorter the plant naturally is, the smaller a pot it will need. Sometimes, but not always small plants are a good place to start, especially for new gardeners. However, the biggest exceptions are if your balcony or patio is very sun-scorched, you will need some taller shade cover first. I'll explain later how to use palm trees but other shade options include building a small roof, buying a sun cloth (medio sombra) or growing a vine over trellises. All containers should have a good drainage hole on the bottom. The only alternative is a good clay pot that will naturally release extra water through pores. If you don't have good drainage you will see water pooling at the top of containers after the rain. A plant left in this condition will rot.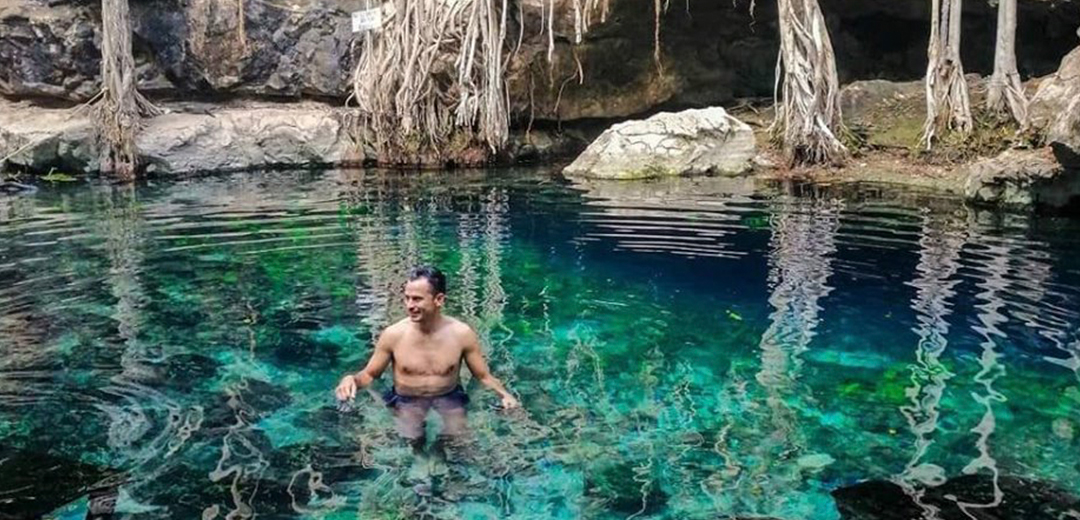 Cenote Guru & EnthusiastAlberto Swain'sList of Cool Cenotes To Check out In Yucatan
Cenote from the maya dzonoot: 'Hoyo con agua or hole with water" These sinkholes are unique formations in the world and they are surface connections to subterranean fresh water bodies in the Yucatan plain. For the Mayans, the cenotes were sacred spaces where they would perform sacrifices and rituals. From ancestral times, the cenotes were of great importance for the Mayans and they were considered portals or windows into the underworld of the dead called Xibalba. Do not miss the opportunity to refresh yourself and feel renewed in these sacred waters of the Yucatan!
Reducing waste While living in Merida,Yucatan
I'm a self-described eco-warrior, so you probably knew this post was coming sooner or later. I'm not here to judge you or your actions, but only ask you to make small changes you are able to leave a better and cleaner world for the next generation. While the politicians continue to debate climate control and emissions, the world has started to see the shock of the great pacific ocean garbage patch, the rivers filled with plastic bottles and the birds caught up in balloon strings. While I am not here to debate climate control, it is clear we have a trash problem. The only way to deal without amount of trash is to reduce it. Lucky for us we already have a lot of the things we need right in our house. Take out I love to take out food, but I dislike styrofoam. This is a place we can all improve. With the delivery apps easier and easier each day the environmental impact is not being well considered. Luckily it's also the easiest place for improvement. 1. You can start to eat at restaurants. 2. You can order carry out and bring your own Tupperware from home instead of using styrofoam. 3. You can learn to cook some staples using my wonderful recipe archive. ()4. You can pressure your favorite local businesses to use paper, bio-cardboard or other proven eco-friendly materials instead of styrofoam.